View the
Tenable Lumin

Dashboard

The following feature is not supported in Tenable Vulnerability Management Federal Risk and Authorization Management Program (FedRAMP) environments. For more information, see the FedRAMP Product Offering.

Required Additional License: Tenable Lumin

Required Tenable Vulnerability Management User Role: Basic, Scan Operator, Standard, Scan Manager, or Administrator

The Tenable-provided Tenable Lumin dashboard visualizes exposure data for your organization. You cannot customize the widgets on this Tenable-provided dashboard.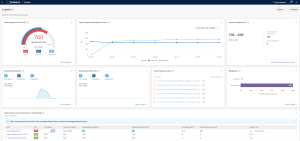 For a demonstration on the Tenable Lumin dashboard, see the following video:
Important!
Tenable One customers can access
Tenable Lumin
directly from the
Workspace
page.
To view summary data in the Tenable Lumin dashboard:
In the upper-left corner, click the button.

The left navigation plane appears.

In the left navigation plane, click Lumin.

The Lumin dashboard appears.

Note: All Tenable Lumin data reflects all assets within the organization's Tenable Vulnerability Management instance.
For more information, see the following topics: