Tenable Web App Scanning

Scan Workflow

Configure web application scans to collect data about your web applications for analysis. This overview walks you through the main steps you need to create, configure, launch, and manage Tenable Web App Scanning scans. Depending on your organization, one person may perform all of the steps, or several people may share the steps.

Did You Know? Scanning:

65% of WAS customers prefer to run a

Quick Scan

.

For a demonstration on tuning for Tenable Web App Scanning scans, see the following video:

My Scans

The My Scans page shows your total number of scans and visualization widgets for several categories of scan statuses: Never Run, Canceled, Aborted, Completed. These visualizations can be hidden, and unhidden, by clicking the Hide Visualizations (or Show Visualizations) button. For more information, see Scan Status.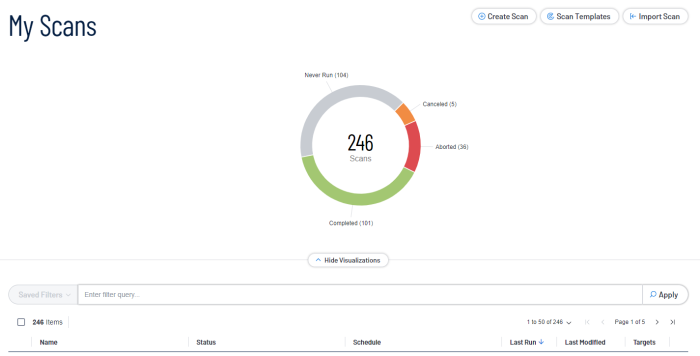 Tip: My Scans Ring Chart You can click on a segment of the ring chart to filter by that status. To deselect a segment, click on the selected segment a second time.
View your My Scans page
In the upper-left corner, click the button.

The left navigation plane appears.

In the left navigation plane, click Scans.

The My Scans page appears.

On your My Scans page, you can perform any, or all, of the following actions to your scan by clicking the button:

Note: Not all scan actions are available for all scans in your list. For example, a scan that is tagged as imported only has Move and Trash actions.
Next steps: